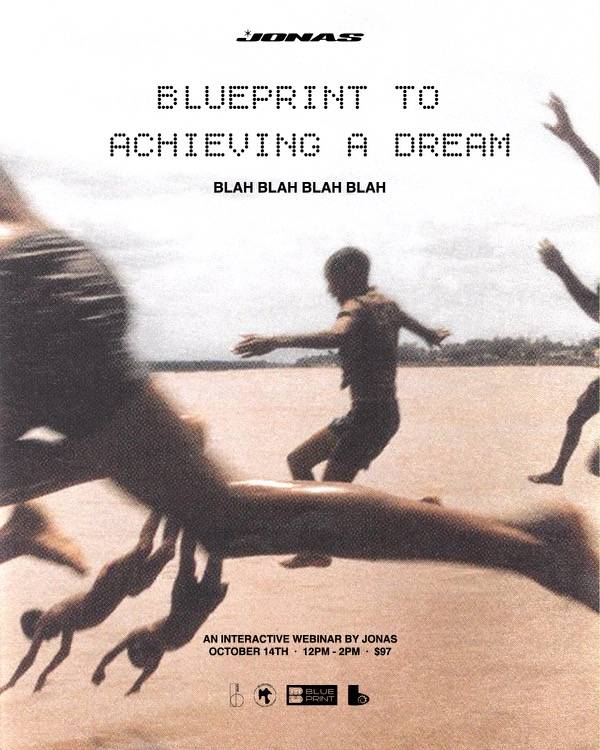 BLUEPRINT TO ACHIEVING A DREAM

an online interactive webinar hosted by Jonas
Hi, it's Dillon from Jonas...
in my life & with people i talk to i find that we all have a big dream. a wild, audacious, life changing vision for the future, but no clarity on how to get there/to see this dream come to pass. the wheels are spinning vigorously...will power and drive at full effect...but as hard as you try...you are stagnant and have experienced no forward momentum...you are lost in the hustle and soon will loose hope.
over my 4 years as the CEO of Jonas, I have been blessed to learn many lessons. both from brilliant people in my life also out of sheer need. one of the most game changing of those being how to take an idea/goal/dream and turn it into reality. no, not all of my dreams have come to pass...but, i have a plan on how they will. i can rest/breath/sleep easy at night knowing i have a BLUEPRINT.
my heart behind this event is to see you go to the next level. whether that is personally or with the dream that you're pursuing. i hope your time with us helps you achieve what seems impossible.
i will hold nothing back when it comes to insight and valuable lessons i learned along the way. you are why i am doing this and i want to help however i can.
i look forward to our time together,
-Dillon
SPEAKERS: Dillon (CEO) and Hunter (COO) of Jonas
WHEN: October 14. 12pm to 2pm cst.
WHERE: Online - Zoom
PRICE: $97
* following the event all attendees will receive a recording of the event (to rewatch at anytime). Also, all attendees will be provided with worksheets that will act as a guide for implementing the content learned.
*after clicking register button at the bottom...it will send you to our Kajobi platform...this is where we will host all of our coaching/consulting content
* further info will be emailed to all attendees